Fun gifts from sunny Hawaii!
Da Pidgin Ten Commandments
God is numbah one.
No make da kine statues.
Watch yo' mout. No swea wit God's name.
On Sunday, no can do notting.
Leesen to yo' muddah and yo' faddah.
No murder nobody.
No go moemoe with yo' bradah's wahine.
No cockaroach notting.
No lie, brah!
No be jealous of one noddah person's stuffs.
Oh, an one noddah ting... no talk stink about nobody, bumbye you get bachi.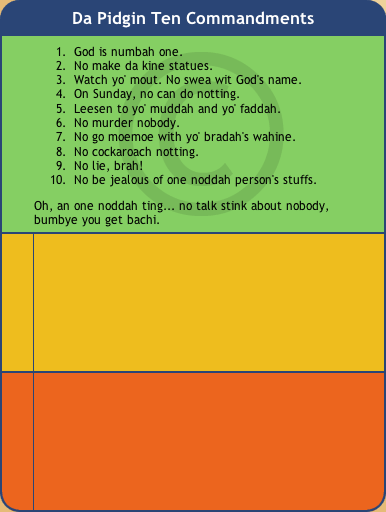 T-Shirts

Prints

Trivets

Bookmarks

Beach Scene

Gecko

Honu (Turtle)
Our family hui worked together on the writing, printing, artwork, computer design, cutting & painting of all our products featuring a Pidgin version of the Commandments, which are illustrated with a Gecko and/or Honu with a surfboard, doing the shaka sign, & wearing slippas. It's a great way to get God's Commandments into homes, schools & offices.